Emission Components for 2013 Cadillac Escalade EXT
No.
Part # / Description
/ Price
Price
Vapor Canister Bracket
1/2 ton. 5.3l. 6.0l. This GM Genuine Part is designed, engineered, and tested to rigorous standards and is backed by General Motors
Vapor Canister Vent Valve
Valve Assembly
Some applications require a new connector and harness. Please message your VIN and for details if your vehicle requires this update.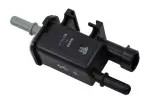 Retainer-Map Sen
M.A.P Sensor Retainer
6.0L. 1/2 ton. 2010-13. 5.3L. 2008-09. , 3/4 ton. This GM Genuine Part is designed, engineered, and tested to rigorous standards and is backed by General Motors
Heated Oxygen Sensor
Ft Oxygen Sensor, Left
This part requires programming and/or special setup procedures GM Service Information describes the procedures and special tools needed to ensure proper operation in the vehicle
Detects oxygen content in the exhaust gases to help optimize emissions
This GM Genuine Part is designed, engineered, and tested to rigorous standards and is backed by General Motors
Heated Oxygen Sensor
Rear Oxygen Sensor, Left
This part requires programming and/or special setup procedures GM Service Information describes the procedures and special tools needed to ensure proper operation in the vehicle Detects oxygen content in the exhaust gases to help optimize emissions This GM Genuine Part is designed, engineered, and tested to rigorous standards and is backed by General Motors
Vapor Canister
Suburban, Yukon XL. 5.3l. Avalanche. 1/2 ton. 6.0l. Hummer H2. Escalade EXT, esv. Helps reduce harmful pollutants from entering the atmosphere Captures fuel vapors to be re-burned in the engine This GM Genuine Part is designed, engineered, and tested to rigorous standards and is backed by General Motors
Related Parts
Part # / Description
/ Price
Price
Fuel Tank Pressure Sensor
Tank Pressure Sensor
Help measure pressure changes within fuel tank Help alert engine management computer if a leak occurs in fuel system