No.
Part # / Description
/ Price
Price
Discontinued
XM Digital Radio Antenna
Antenna Assembly
Antenna. , with digital audio, without g.p.s. Helps optimize reception even when obstructed by tall buildings or foliage Receives AM, FM, GPS, XM, and cellular signals This GM Genuine Part is designed, engineered, and tested to rigorous standards and is backed by General Motors
Discontinued
Discontinued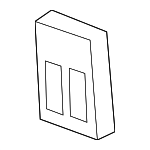 Radio Antenna Module
Receiver
With digital radio. Without bluetooth. , with digital audio, without traffic.
Not For Sale
Not For Sale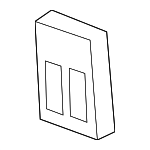 Discontinued
No.
Part # / Description
/ Price
Price
Radio Antenna
Antenna Mast
All models. 2nd design. Sierra, silverado. Canyon, Colorado. Without digital radio. S-series. Fixed antenna. Bravada/Envoy/Trailblazer. Cobalt. Without digital audio. 7mm. On fender. Designed to allow for multiple channels to be received\
\
This GM Genuine Part is designed, engineered, and tested to rigorous standards and is backed by General Motors
Radio Antenna Base Assembly
Base
Without digital audio. Silverado, sierra hybrid. Helps seal out water from the vehicle Provides the antenna system ground This GM Genuine Part is designed, engineered, and tested to rigorous standards and is backed by General Motors