Ignition System for 1991 Cadillac Eldorado
Related Parts
Part # / Description
/ Price
Price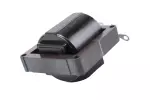 Ignition Coil
High quality coated windings to improve durability and provide protection against internal shorts and dielectric breakdown Silicone steel plates surrounding the ignition coil correctly match the original part size and number exactly Laminations are coated to hinder corrosion and many feature molded plastic protection to help ensure that nothing is exposed
Ignition Distributor Rotor
Rotor
Professional, premium aftermarket replacement This GM Genuine Part is designed, engineered, and tested to rigorous standards and is backed by General Motors Manufactured to meet expectations for fit, form, and function
Ignition Distributor Cap
Cap
8 cylinder. With fuel injection. Dish-fin type. Professional, premium aftermarket replacement. This GM Genuine Part is designed, engineered, and tested to rigorous standards and is backed by General Motors. Manufactured to meet expectations for fit, form, and function
Engine Control Module, Remanufactured
1
ECM
8 cylinder. Seville. Dish-fin type. 4.9L. Allante. This part requires programming and/or special setup procedures GM Service Information describes the procedures and special tools needed to ensure proper operation in the vehicle Dictates the operation of your vehicle's vital systems, which is critical to the performance of your vehicle
Ignition Control Module
Feature electronically welded lead connections to reduce heat stress failure or cold joints Laser trimmed to provide precise values and reduce deterioration and damage Increase voltage in order for the spark plugs to ignite the air/fuel mixture Include a c ...
Spark Plug Wire Set
All models. 4.9l. Allante. Wire kit. Seville. Durable to help transfer high voltage pulses without damage
1 This price excludes a refundable manufacturer's core charge. Add the part to your cart to see the core charge.